TitleBucks Growth in Texas!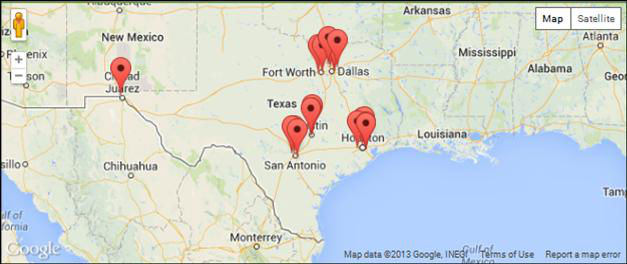 TitleBucks is one of the nation's premier title lending companies and we are pleased about our continued growth…especially throughout the state of Texas. With twenty-five (25) new stores opening thus far in 2013, eleven (11) of the car title lending locations have been in the lone star state. That's nearly half of the stores opened this year! Currently, there are more than 20 locations from which to choose throughout Texas including the following cities: Austin, Dallas, El Paso, Ft. Worth, Houston, Lewisville, Pasadena, Rowlett, San Antonio, and South Houston. If you are in these areas and are looking for cash, stop in and meet our friendly and knowledgeable customer service representatives.
At TitleBucks, we are ready to help you obtain the cash you need! We can have you in and out in as little as 30 minutes. You will need a few items in order to complete the process, so please bring with you the following:
About TitleBucks
TitleBucks is committed to being one of the nation's premier car title loan and pawn company. We offer incredible customer service, as well as an easy approval process! Worried that your credit will keep you from getting cash from TitleBucks? Don't be! All credit is welcome, as we use your collateral in place of your credit. Everyone has their own unique financial scenario, so whatever is preventing you from buying that gift for your Valentine, let us help by guiding you through the loan process so you can get the cash you need. Please remember to bring the following items in with you:
Your vehicle
Your vehicle's clear, or lien-free, car title
A government-issued ID
Proof of income is required for some Texas Products
With these items, you may be approved quickly for a car title loan or pawn up to $10,000*. What's even better is that you get to continue driving your car through the life of the loan. If you have questions outside of those hours, please get in touch with one of our fabulous TitleBucks team members by either chatting with us online or completing our short online form. We will contact you as soon as we can.
There are three convenient ways to contact us:
Visit any of our numerous Title Loan Stores
Call one of our friendly Customer Service Specialists at 1-855-88 BUCKS
chat with one of our Customer Service Specialists online
Come in today and ask us any questions regarding the car title loan process, so we can get you the cash you need to make that happen! If you are looking for money, choose TitleBucks!
* Maximum loan amount in Alabama, Arizona, Georgia, South Carolina, and Texas is $10,000. Maximum title loan amount in Tennessee is $2,500.
** To be approved for a title loan, you must be at least 18 years of age (19 in Alabama).
---