TitleBucks of Gaffney SC Honors Breast Cancer Awareness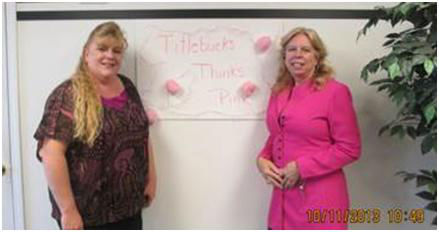 TitleBucks of Gaffney, SC recognized breast cancer awareness during October! Tracy (Store Manager) and Carol (General Manager), pictured above, decorated the TitleBucks office and dressed up in pretty pink attire. It's important to bring awareness to breast cancer and honor those who suffer from this terrible disease; but, it's also wonderful to celebrate those who have fought the battle and beaten it! Any type of illness takes a toll on you and your loved ones, and it's important to realize that we must come together as a community and fight the fight together!
TitleBucks team members enjoy participating in community events and giving back to worthy causes. We believe in fighting not only breast cancer, but all types of cancer. We hope that one day very soon cancer will be cured.
About TitleBucks
TitleBucks, a subsidiary of TMX Finance, provides financial products to people without access to traditional credit alternatives. TitleBucks has been a trusted consumer lender for over 14 years, helping thousands of people get cash when they need it.
About Car Title Loans
A car title loan is a quick way for individuals to obtain the cash they need using their car title, not their credit history. To secure a car title loan with TitleBucks in the state of South Carolina, an individual must have a clear, or lien-free, car title, a government-issued ID, and proof of income. With these items, an individual may obtain a car title loan up to $10,000 while still being able to drive their vehicle. Vehicle insurance is not required, all credit is accepted and most loans can be processed in as little as 30 minutes.
If you find that you need some extra cash, let TitleBucks help! Either complete our short online form and one of our friendly team members will call you to make an appointment, or just go ahead and pop in one of our numerous TitleBucks locations. We want to help you get the money you need. The process is so easy and we can have you in and out in as little as 30 minutes. You will need a few items in order to complete your transaction, so please bring with you the following:
About TitleBucks
TitleBucks is committed to being one of the nation's premier car title loan and pawn company. We offer incredible customer service, as well as an easy approval process! Worried that your credit will keep you from getting cash from TitleBucks? Don't be! All credit is welcome, as we use your collateral in place of your credit. Everyone has their own unique financial scenario, so whatever is preventing you from buying that gift for your Valentine, let us help by guiding you through the loan process so you can get the cash you need. Please remember to bring the following items in with you:
Your vehicle
Your vehicle's clear, or lien-free, car title
A government-issued ID
Proof of income is required for some Texas Products
With these items, you may be approved quickly for a car title loan or pawn up to $10,000*. What's even better is that you get to continue driving your car through the life of the loan. If you have questions outside of those hours, please get in touch with one of our fabulous TitleBucks team members by either chatting with us online or completing our short online form. We will contact you as soon as we can.
There are three convenient ways to contact us:
Visit any of our numerous Title Loan Stores
Call one of our friendly Customer Service Specialists at 1-855-88 BUCKS
chat with one of our Customer Service Specialists online
Come in today and ask us any questions regarding the car title loan process, so we can get you the cash you need to make that happen! If you are looking for money, choose TitleBucks!
* Maximum loan amount in Alabama, Arizona, Georgia, South Carolina, and Texas is $10,000. Maximum title loan amount in Tennessee is $2,500.
** To be approved for a title loan, you must be at least 18 years of age (19 in Alabama).
---