Get Excited for Black Friday!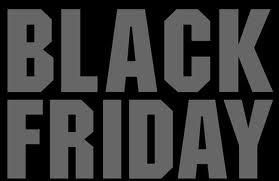 Guess what happens in ten days?! The busiest shopping day of the year…Black Friday!! If you're a Black Friday shopper, you may already be planning to limit your turkey and dressing intake Thursday so you can feel great and take full advantage of the retailer sales bright and early Friday morning. This is the perfect time to exercise that "money-saving muscle" you have, and also enjoy time being out-and-about shopping!
Doing your research early is the best way to guarantee that you'll save money. Make a list of the places where you plan to shop and even jot down the items that you're looking to purchase. If you are planning a budget and expect to actually stick to it, do not stray from the plan. Getting sidetracked is incredibly easy, so commit to yourself now that you will only purchase what is on your list!
There are thousands of retailers participating in this fun-filled day, but some of the most popular include:
The links above will you take you straight to the retailers Black Friday specials where you can begin your preparation for shopping. There's also a website that lists other retailers that you may find of interest at https://blackfriday.com/. Any type of "Black Friday" search on Google will you give a plethora of options and you will be amazed at what you can accomplish by doing your homework early. So good luck to you and stay safe!
Fun Fact: The term "Black Friday" originated before 1961 in Philadelphia. One of its meanings is used to describe the incredibly heavy and disruptive pedestrian and vehicle traffic that happens the day after Thanksgiving. More recently, the financial term has been used to reference the point when retailers move from financial loss (January – November) into the profit phase, "in the black."
About TitleBucks
TitleBucks is committed to being one of the nation's premier car title loan and pawn company. We offer incredible customer service, as well as an easy approval process! Worried that your credit will keep you from getting cash from TitleBucks? Don't be! All credit is welcome, as we use your collateral in place of your credit. Everyone has their own unique financial scenario, so whatever is preventing you from buying that gift for your Valentine, let us help by guiding you through the loan process so you can get the cash you need. Please remember to bring the following items in with you:
Your vehicle
Your vehicle's clear, or lien-free, car title
A government-issued ID
Proof of income is required for some Texas Products
With these items, you may be approved quickly for a car title loan or pawn up to $10,000*. What's even better is that you get to continue driving your car through the life of the loan. If you have questions outside of those hours, please get in touch with one of our fabulous TitleBucks team members by either chatting with us online or completing our short online form. We will contact you as soon as we can.
There are three convenient ways to contact us:
Visit any of our numerous Title Loan Stores
Call one of our friendly Customer Service Specialists at 1-855-88 BUCKS
chat with one of our Customer Service Specialists online
Come in today and ask us any questions regarding the car title loan process, so we can get you the cash you need to make that happen! If you are looking for money, choose TitleBucks!
* Maximum loan amount in Alabama, Arizona, Georgia, South Carolina, and Texas is $10,000. Maximum title loan amount in Tennessee is $2,500.
** To be approved for a title loan, you must be at least 18 years of age (19 in Alabama).
---