TitleBucks of Tucson, AZ 4 Participates in MDA Lock-up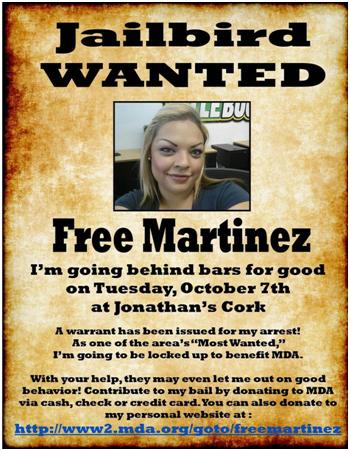 Give a huge shout-out to our TitleBucks Tucson, AZ #4 for participating in the Muscular Dystrophy Association's (MDA) "Lock-Up" event. Our very own Free M., General Manager of the store located at 1529 W. St. Mary's Road, Tucson, AZ 85745, has always been active in her community and has committed her time and efforts to raising money for this awesome cause. Free "went behind bars" for good yesterday, Tuesday, October 7th, at Jonathan's Cork Restaurant. The "bail money" she and other participants raised goes directly back to the local community and $200 worth of donations will help fund a camp activity.
Thank you to Free and all the other generous people who helped with this event. The MDA is a great organization and we're proud that our TitleBucks store found such an awesome way to give back!
If you are interested in getting involved in your community via this TitleBucks location, please contact our store at (520) 917-0430 for other opportunities.
Not in Tucson, but still interested? That's OK! We have numerous locations and our stores volunteer with various organizations on a regular basis!
About TitleBucks
If you're looking for cash without tons of paperwork or intensive credit checks, then come to TitleBucks. We can get you anywhere form $250-$10,000 simply using your car title as your collateral.
Bring the following items with you to ensure a simple and smooth process:
Your vehicle
Your vehicle's clear, or lien-free, car title
A government-issued ID
Proof of income (this is only necessary in South Carolina)
With these items, you may be approved for a car title loan or pawn up to $10,000, depending on your state. And, the best part, you get to keep the keys to your vehicle and continue driving it throughout the entire duration of the loan.
Come in today and ask us any questions you may have regarding the car title loan or pawn process. If you are looking for money, choose TitleBucks! Feel free to stop into any of our locations during normal business hours or if that doesn't work, just give us a call at 1-855-88-BUCKS. Near your computer? You can chat with us online before coming in.
We are happy to help you obtain the cash you need quickly. Turn your car title into bucks with TitleBucks!
---