TitleBucks of Birmingham, AL #1 Donates to Humane Society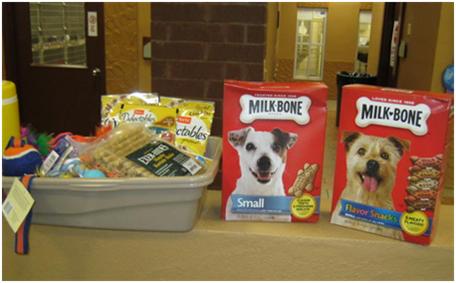 Animals deserve lots of love and that's why we want to say THANK YOU to our very own TitleBucks in Birmingham, AL, located at 5308 Oporto Madrid Blvd South, for donating so many awesome and needed supplies to the Birmingham Human Society! Niko K. (Store Manager) and Jay P. (General Manager) made a huge difference in the lives of so many animals. They gathered and donated dog/cat treats, rabbit food, toys, bowls, and litter pans, as well as supplies for the Human Society staff! Thank you for being so generous and thoughtful. We are honored that you are members of the TitleBucks family!
Giving back is so important, especially to our underprivileged furry friends who aren't showered with treats, or even sometimes a warm place to sleep, like so many of our pets at home. These fellows and their caretakers definitely appreciate being remembered!
If you are interested in getting involved in your community via this TitleBucks location, please contact our store at (205) 599-3311 for opportunities.
Not in Birmingham, but still interested? That's OK! We have numerous store locations and our stores volunteer through non-profit organizations on a regular basis!
The Bucks Start Here!
At TitleBucks, we can loan you cash from $250 up to $10,000! Please stop into any of our locations during normal business hours to be approved for your quick cash! If our business hours don't work for you, just give us a call at 1-855-88-BUCKS. Would you rather chat online? That's great! You can chat with a representative before coming in. We are happy to help you obtain the cash you need quickly.
Bring the following items with you to ensure a simple and smooth process:
Your vehicle
Your vehicle's clear, or lien-free, car title
A government-issued ID
Proof of income (this is only necessary in South Carolina)
With these items, you may be approved for a car title loan or pawn up to $10,000, depending on your state. And, the best part, you get to keep the keys to your vehicle and continue driving it throughout the entire duration of the loan.
There are three convenient ways to contact us:
Visit any of our numerous Title Loan Stores
Call one of our friendly Customer Service Specialists at 1-855-88 BUCKS
Chat with one of our Customer Service Specialists online
Come in today and ask us any questions you may have regarding the car title loan or pawn process. We can get you the cash you need to keep your house cool any time of the year! If you are looking for fast money, choose TitleBucks!
---