TitleBucks of LaGrange GA Donates More than $650.00 to Local Charity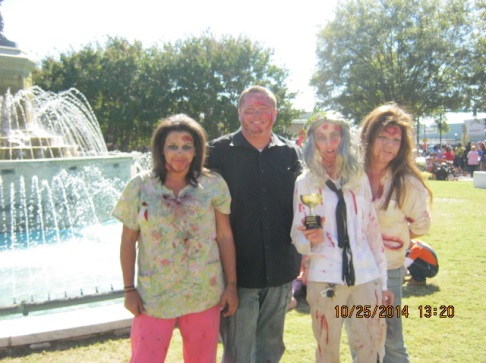 Congratulations to the team at TitleBucks in LaGrange, GA for its participation in the Downtown LaGrange Chili Cook-Off Charity!  This great team, including Jennifer M. (General Manager), Jessica H. (Store Manager), Jessica G. (Customer Service Representative), Berry R. (District Manager), Michael Songa (Customer Service Representative), and Melanie P. (General Manager In-Training), decorated their booth as the Walking Dead and dressed up as zombies. With all of their hard work and efforts, they WON the best booth contest! These "zombies" raised more than $450.00 and also added an extra $200.00 to their total for winning the best booth. All of their winnings will be donated to their charity of choice, Hope for a Day. Hope for a Day is a non-profit that supports cancer patients and their families in many ways, including assisting the patient with medical bills or merely lifting the morale of the patient and his/her family. Awesome job, team! Fund-raising more than $650.00 for any non-profit is a great way to start off the season of giving.
About TitleBucks
TitleBucks continues to be one of the nation's premier title loan and title pawn companies. We offer short-term loan services at more than 180 locations across 9 states. If you're in need of money but don't want to deal with the paperwork or credit checks, let us help. We will help you obtain cash from $250-$10,000 by using your car title as your collateral. If you're curious now as to an estimate of what you could borrow, click here.
Please bring the following items with you to ensure a stress-free process:
Your vehicle
Your vehicle's clear, or lien-free, car title
A government-issued ID
Proof of income (this is only necessary in South Carolina)
With these items, you may be approved in as little as 30 minutes for a car title loan or pawn up to $10,000, depending on your state. You keep the keys to your car and continue driving it throughout the entire duration of the loan.
We invite you to stop in today and ask us any questions you may have regarding the car title loan or pawn process. If you are looking for money quickly, choose TitleBucks! We are committed to being your better lending option and here's why. If you would rather speak with one of our friendly CSRs first, that works! Just give us a call at 1-855-88-BUCKS. Near your computer? You can chat with us online before coming in.
Turn your car title into bucks with TitleBucks!
*TitleBucks stores will be closed Thanksgiving, Christmas, and New Year's Day.
---