TitleBucks of Albany, GA Collects Christmas Items for Local Battered Women's Shelter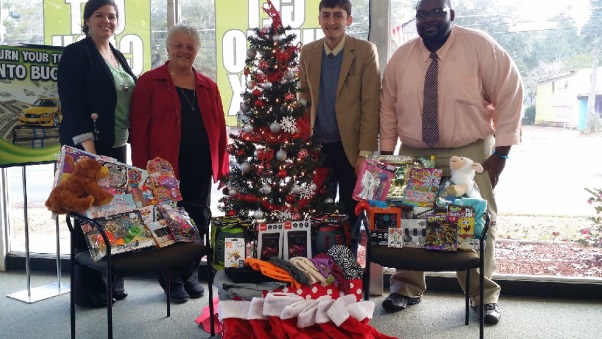 Team TitleBucks Albany GA 1 is showing their holiday spirit left and right!! Just take a look at their photograph and you'll notice all of the awesome surpises they have collected for Liberty House, a local battered women's and children's shelter. The store came together and collected all of these amazing items including an assortment of toys, stockings for each child, clothes, and even tablets for the older children who are often times overlooked!!  What an awesome way to show your care and concern for others, especially during the holiday season!!! Great job, team!
About TitleBucks
TitleBucks continues to be one of the nation's premier title loan and title pawn companies. We offer short-term loan services at one of our many locations. If you're in need of money but don't want to deal with the paperwork or credit checks, let us help. We will help you obtain cash from $250-$10,000 by using your car title as your collateral. If you're curious now as to an estimate of what you could borrow, click here.
Please bring the following items with you to ensure a stress-free process:
Your vehicle
Your vehicle's clear, or lien-free, car title
A government-issued ID
Proof of income (this is only necessary in South Carolina)
With these items, you may be approved in as little as 30 minutes for a car title loan or pawn up to $10,000, depending on your state. You keep the keys to your car and continue driving it throughout the entire duration of the loan.
We invite you to stop in today and ask us any questions you may have regarding the car title loan or pawn process. If you are looking for money fast, choose TitleBucks! We are committed to being your better lending option and here's why. If you would rather speak with one of our friendly CSRs first, that works! Just give us a call at 1-855-88-BUCKS. Near your computer? You can chat with us online before coming in.
Turn your car title into bucks with TitleBucks!
* TitleBucks stores will be closed Christmas, and New Year's Day.
Types of Loans
---