St. Patrick's Day!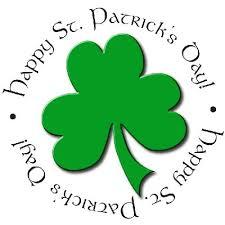 What does TitleBucks and St. Patrick's Day have in common? The color GREEN! Except our green represents cash! So, if you're out and about this weekend taking advantage of St. Patrick's Day festivities and find that you need more money, stop in at any of our numerous Title Loan Stores and we will get you hooked up. There is no need to worry any longer about how you will pay this bill, or how will you afford this trip, or even how you will enjoy this weekend, because TitleBucks is here when you're in a pinch to help get you the cash you need! We are ready and available to speak with you about the financing you need. Just give us a call at 1-855-88-BUCKS or visit us at any of our conveniently located stores, and you can rest assured that we will do our best to help you and your family. It's so easy and so convenient. The paperwork is minimal but the cash is not! You can even borrow up to *$10,000, depending on your state; so, don't delay…stop by TODAY! Our stores open Monday – Friday from 9:00am – 7:00pm and then on Saturday from 10:00am – 2:00pm. If you'd rather chat with us online first, then please do so!  We look forward to helping you obtain the cash you need fast.
About TitleBucks
TitleBucks is one of the nation's premier car title loan and pawn companies. We will provide you with the best customer service, and our approval process is so easy! Worried about your credit score? Don't be! All credit is accepted, as we use your collateral (ie: vehicle) in place of your credit. We completely understand that everyone has their own unique financial circumstances, so whatever is holding you back, let us help by guiding you through the loan process so you can get the cash you need. Remember to bring the following items in with you in order to ensure a speedy process:
Your vehicle
Your vehicle's clear, or lien-free, car title
A government-issued ID
Proof of income is required for some Texas Products
With these items, you may be approved quickly for a car title loan or pawn up to $10,000*. And even better, you get to continue driving your car.
There are three convenient ways to contact us:
Visit any of our numerous Title Loan Stores
Call one of our friendly Customer Service Specialists at 1-855-88 BUCKS
Chat with one of our Customer Service Specialists online
Come in today and ask us any questions regarding the car title loan process, so we can get you the cash you need to make that happen! If you are looking for money, choose TitleBucks!
* Maximum loan amount in Alabama, Arizona, Georgia, South Carolina, and Texas is $10,000. Maximum title loan amount in Tennessee is $2,500.
** To be approved for a title loan, you must be at least 18 years of age (19 in Alabama).
---