Daylight Savings!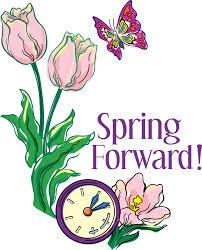 Are you ready for warmer weather, brighter skies, and longer days? If you answered YES, then you're in luck! This Sunday, March 9th is Daylight Savings Time (DST) and our time will "spring forward" one hour. So, instead of the sun going down at 6:30pm, you can now hang out until 7:30pm, and that sundown will continue to be later and later as summer approaches us. The idea of daylight savings was first proposed by George Vernon Hudson back in 1895, and it was actually first implemented in Germany and Austria-Hungary in 1916. Many countries throughout the world have used it at various times since 1916, but it has most consistently been used since the energy crises of the 1970s. The practice has both fans and naysayers. It has proven to be excellent for entertainment after business hours, including sports and retail, but not necessarily favored by occupations that are tied to the sun such as farming.  Switching the time on the clock also presents other challenges. It can complicate timekeeping and disrupt billing and record keeping, medical devices, and sleep patterns. On a positive note, DST reduces the amount of lighting used in the home since the sun stays up longer, providing light which in turn reduces energy consumption. For more information on DST, check out http://en.wikipedia.org/wiki/Daylight_saving_time.
All in all, we're pretty excited about having more sunlight and are looking forward to an awesome spring and summer. If you find that you need a little extra cash to get you through these warmer months, let us know! Statistics show that people tend to spend more money during DST simply because it's easy to stay out and about later. We're not all rushing to get home to get warm and cozy like we tend to do in during the winter months. So, if you need extra cash to purchase that boat or take a vacation, or to help with unexpected medical bills or even buy a few new clothing items, TitleBucks is here to help. The entire process so quick and easy, and our friendly customer service representatives are here to help you. All you have to do is let us know your questions and we'll steer you in the right direction.  TitleBucks has numerous Title Loan Stores so we're sure to have one somewhere near you. If you'd rather ask us a few questions before stopping in, please give us a call at 1-855-88-BUCKS or hop on your computer and chat with of us. We look forward to helping you obtain the cash you need fast.
About TitleBucks
TitleBucks remains committed to being one of the country's premier car title loan and pawn companies. Our customer service is top notch, and our approval process is fast and simple. All credit is welcome, as we simply use your collateral (ie: vehicle) in place of your credit. Everyone has their own unique financial circumstances, so whatever is holding you back, let us help by guiding you through the loan process so you can get the cash you need. Please remember to bring the following items in with you:
Your vehicle
Your vehicle's clear, or lien-free, car title
A government-issued ID
Proof of income is required for some Texas Products
With these items, you may be approved quickly for a car title loan or pawn up to $10,000*. And even better, you get to continue driving your car. If you have questions outside of those hours, please get in touch with one of our fabulous TitleBucks team members by completing our short online form. We will contact you as soon as we can.
There are three convenient ways to contact us:
Visit any of our numerous Title Loan Stores
Call one of our friendly Customer Service Specialists at 1-855-88 BUCKS
Chat with one of our Customer Service Specialists online
Come in today and ask us any questions regarding the car title loan process, so we can get you the cash you need to make that happen! If you are looking for money, choose TitleBucks!
* Maximum loan amount in Alabama, Arizona, Georgia, South Carolina, and Texas is $10,000. Maximum title loan amount in Tennessee is $2,500.
** To be approved for a title loan, you must be at least 18 years of age (19 in Alabama).
---